Laminate & Veneer Worktops
Veneer & Laminate Worktop Repairs
In the world of modern design, laminate and veneer worktops emerge as stars, offering a perfect blend of style, durability, and cost-effectiveness. These surfaces, with their vast array of designs and textures, can effortlessly mimic the allure of natural materials. However, despite their resilience, they aren't exempt from wear and tear. Scratches, delamination, burns, or chipping can detract from their pristine appearance, necessitating expert intervention.
Common Issues with Laminate & Veneer Worktops
Scratches and Scuffs: Daily activities, especially in high-traffic areas, can lead to superficial scratches or deeper scuffs.
Burn Marks and Heat Damage: Placing hot pots or pans directly onto the surface might result in burn marks or discolouration.
Chipping and Delamination: Edges, in particular, can get chipped, or the veneer layer might start to peel or delaminate.
Magicman's Proficiency in Laminate and veneer Worktop Repairs
Understanding the unique composition and the design versatility of laminate and veneer worktops, Magicman brings to the table a combination of profound experience and modern repair methodologies. The goal? A worktop that regains its seamless, as-new appearance.
Our Methodical Repair Process
Exhaustive Inspection: The repair journey begins with a meticulous examination, discerning the specific type and depth of the damage.
Precision Repair: Armed with specialised tools, fillers, and techniques, we address every scratch, burn mark, or chip, ensuring the repaired area flawlessly matches the original surface.
Seamless Finishing: Post-repair, we focus on texture and colour matching, ensuring the treated areas blend seamlessly with the rest of the worktop.
Why Choose Magicman for Veneer & Laminate Worktop Repairs
The tradition of Mastery: 30 years in the industry has seen Magicman rise as a beacon of excellence in laminate and veneer worktop restorations.
Tailored Techniques: Recognising the distinct characteristics of laminate and veneer surfaces, our approach is always bespoke, ensuring impeccable results.
Pan-UK Service: With Magicman's widespread presence, our exemplary repair services are accessible to every corner of the UK.
Laminate and veneer worktops, with their modern charm, demand a restoration process that understands and enhances their uniqueness. With Magicman, every mark, chip, and delaminated patch is expertly addressed, bringing back the worktop's innate allure. Considering a repair for your laminate or veneer worktop? Connect with our restoration specialists or Request a comprehensive, no-obligation estimate today.
Get AN estimate now
Repair Examples
Before
After
Before
After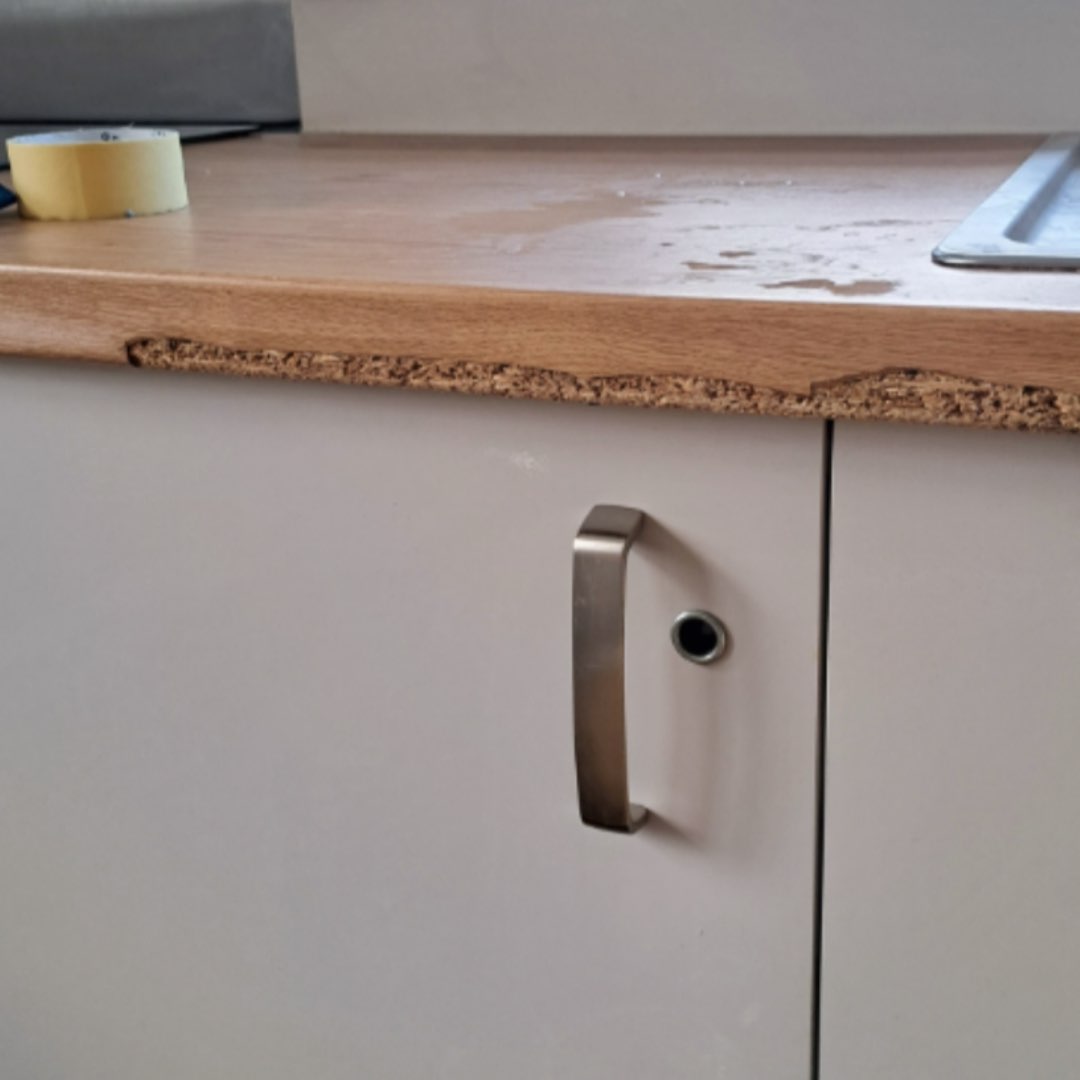 Before
After
Before
After