Trainee repair technician
Trainee repair technician
Trainee Hard Surface Repair Technician
Would you like to travel the world and see exotic destinations whilst being paid for it!
Do you have a full manual UK driving licence? Are you based in the UK?
Magicman has career opportunities to train to become a Magicman at our training academy on the outskirts of Brighton in as little as 5 weeks and once you have successfully passed your probation period you can potentially work onboard cruise ships working your Magic!
No experience is required as we will train you the Magicman way!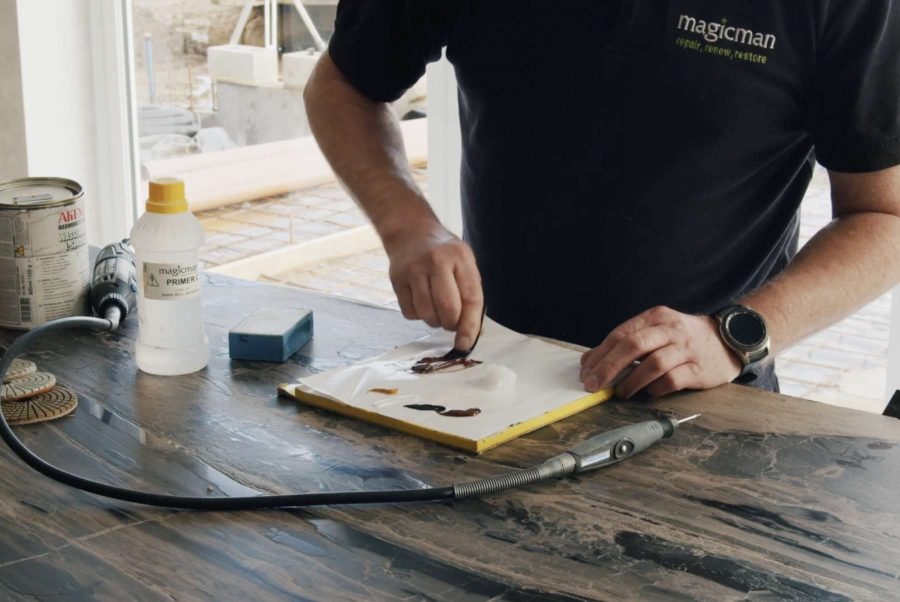 Our trainees start at £22,500 with a pay review at your six-month probationary period.
The salary band for technicians is £22500 (Trainee) to £35,000 (Master Technicians) plus O/T & bonus payments for offshore work. Progression is by means of the individual's effort and how much they are willing to put into the role. Continuous on-the-job training with progression and fantastic career opportunities.
Predominately you will be working on both domestic and commercial property within the South West of England. Overnight stays may be required at times. In addition, worldwide travel is an available option for work onboard cruise ships which could double your salary.
We provide fully expensed training (inc Health & Safety) on a 5-week residential course at our training academy in Sussex (you can go home at the weekend), a fully expensed company vehicle and all of the equipment you would need, a staff uniform and a mobile phone.
We offer an attractive salary package a company Pension Scheme (the company also contributes 3% to your workplace Pension). Simply Health Plan which includes, optical, dental, osteopath, chiropractor and much more). This benefit will rise each year from min (level 2) to max (level 5). Annual leave from 21 days (year 1) to a maximum of 25 days (year 5) per annum (exclusive of the usual Bank Holidays). Continuous on-the-job training with progression and fantastic career opportunities.
Your hours of work will be 40 hours per week plus one weekend in four, paid overtime either Sat (time plus half) / Sun (double time).
What Magic Man Ltd are looking for:
Energetic team players looking to build and grow a future within our organisation who possess the following:
Full Manual driver's licence with a maximum of 6 points Satisfactory written and verbal English
Able to maintain high standards across all aspects of work,
Dress, attitude and appearance.
Good timekeeping and attendance
Ability to work alone as well as part of a team
Logical thinker/problem solver
Practical and flexible with a "can-do" attitude.
Patient, polite manners and likes working "hands-on". Good eye for detail and colour
To join our team and live the dream, please send us an up-to-date C.V. giving reasons why you would be the ideal fit to join the Magicman team especially if you have no relevant or construction site experience.
A Basic Disclosure Check will be necessary prior to employment as company employees may be exposed to lone working and working with vulnerable persons.
We're an equal-opportunity employer. All applicants will be considered for employment without attention to race, colour, religion, sex, sexual orientation, gender identity, national origin, veteran or disability status.
STRICTLY NO AGENCIES
Job Types: Full-time, Permanent Salary: £22,500.00-£25,000.00 per year Benefits:
Company car
Company contribution of 3% of salary to the Pension Scheme
Free Simply Health cover (general health examinations)
Private medical care is also available
Worldwide travel
Schedule:
8-hour shift
Monday to Friday Overtime
Weekend availability
Do you have a current manual driving licence as this is a requirement for the role?
Work authorisation: United Kingdom (required)
Willingness to travel: 75% (required)
Work Location: On the road
Equal Opportunities Statement
Magicman Holdings Limited is an equal opportunities employer and positively encourages applications from suitably qualified and eligible candidates regardless of sex, race, disability, age, sexual orientation, gender reassignment, religion or belief, marital status, or pregnancy and maternity.
GDPR (General Data Protection Regulation)
As part of our recruitment process, we will collect and process personal data relating to job applicants. We are committed to being transparent about how we collect and use that data and to meeting our data protection obligations in line with the General Data Protection Regulations (GDPR). A copy of our Applicant Privacy Policy is available to view on the Company Website.
Apply Via Email
Documents